Note: Since writing part 2, I've dropped Sket Dance as of episode 2. Clearly it's not something I would continue watching, especially with many other, better, anime.

---
The World God Only Knows 2
Well, after dropping the first season, and only watched it casually again later on, it seemed fitting that I would watch the second season casually too. Some of the reason for not picking it up regularly is probably the same as not picking it up at all, except the part of having an interesting plot.
The main reason for not picking it up is the it's-neither-good-nor-bad character design, Elise being so annoying, and a change of route every one or two episodes (this also applies to Sket Dance, which I've just dropped), and maybe the Austin Powers-like main character design.
Electromagnetic Girl and a Teenage Boy
電波女と青春男
(Warning: You might find the opening a pain to your ears.)
If you weren't paying attention to the credits, you probably wouldn't think that this is another SHAFT anime due to the obvious lack of their signature strange style of theirs, and
Maria Holic Alive
that they too produced also being in this season's lineup. The protagonist's aunt looked somewhat like Kawashima Ami of Toradora
(Autumn 2008)
.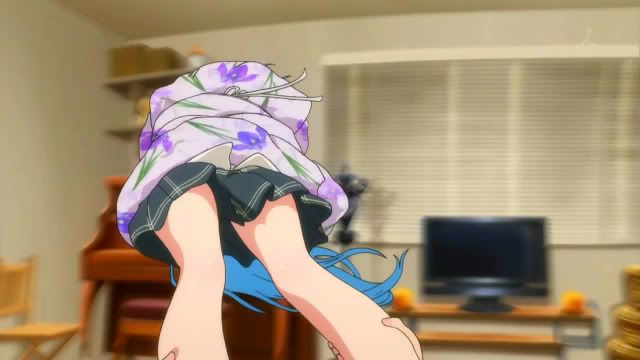 This episode is just mostly an introduction. Protagonist moves from the countryside and into the city, a lot of conversation over the dinner table, and nothing new here. What is the strange one is an unnoticed girl lying around in the house, wrapped most of her body around in a futon for most of the episode. Oddly, she doesn't want the the futon externally tied around her to be removed, until close to the end of the episode where we get to see her for the first time outside that futon as if a butterfly has hatched out of the cocoon as she was pretty and instantly mature, which is the last you would expect from a largely ignored girl who was previously only seen wrapped in a futon and behaving childishly.
Well, I'm hoping that it wouldn't take a turn for the worse. I can't really compare this with other anime made by SHAFT.
We Still Do Not Know the Name of the Flower We Saw that Day.
あの日見た花の名前を僕達はまだ知らない。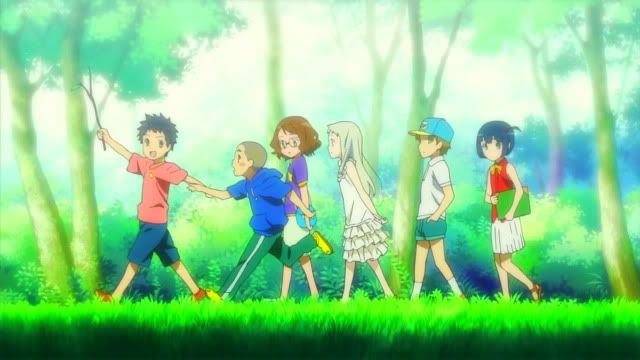 Well, I don't really like anime that feature a group of primary (elementary) school kids partly because of my own history during those days, or their older selves looking back, how people have changed, and how something happened to one of them. I would probably need to watch again to get what's going on. I only picked it up because of the ending theme below, or maybe something about one of the preview trailers.
This video seemed to lack animation as only the song and the credits are displayed in the closing minutes of the episode, and only parts of this video was used for the ad of the ending song album.
[C] The Money of Soul and Possibility Control
C
So, this anime starts with a salaryman trying to use all the cards he has on an ATM, but all failed. His very last one would give him all the money he wants and access to the surreal Financial District, but on the condition of exchanging it for his life.
I really don't get what's going on, but it seems to have that same atmosphere that Death Note
(Autumn 2006)
has. It's certainly more interesting to watch than Aria mentioned below. Also, it's rare for an anime where the protagonist is
not
in High School (college in this case), which most anime seems to be based on these days.
Watched a bit of it only because it was one of the titles I wrote down while looking at the previews of all the spring anime and I don't know what I had just watched. Guns? Bombs? Machine gun-mounted segways that moves by itself? Also, the level of male-orientated fanservice makes me feel uneasy and disgusted.
Sorry to say, I don't want to write much about this. Unless you are a guy that likes pretty girls with guns and in combat, I wouldn't want to even mention this anime.
---
To sum it up, this spring season offers plentiful amount of new anime that meets that standard of giving me a warm, fuzzy feeling, wanting to watch more, and quite good character and background design. Detail is not important as you could see that I'm watching
Nichijou
(least detailed BG, happy-go-lucky lifestyle), and
Hanasaku Iroha
(most detailed BG, goes through hardships) at the same time. This is the first time in a long while that I've seen so many good anime. Spring and Autumn are the usual season when this happens.
Will we see another time like this? There's a likely chance there won't be, at least, among the well known names we know now: the recent Touhoku Earthquake on top of the already strained economy, some of the screenwriters passing on, amongst other unpredictable reasons.
Well, let's savior it while it lasts.